AlpBC - Alpine Building Culture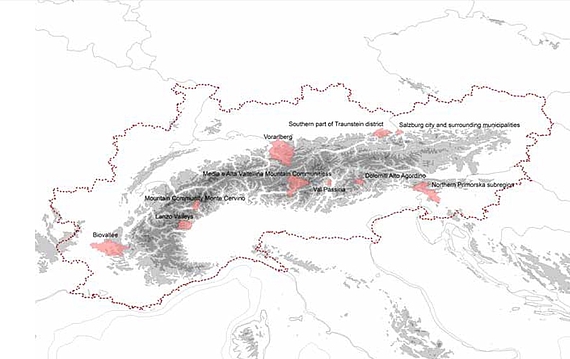 AlpBC is co-funded in the Alpine Space Programme of the European Union from 2012-15. Alpine building culture is an asset that needs to be preserved in the context of territorial development and ecologic sustainability. AlpBC develops strategies and measures to preserve and advance this cultural feature: through the implementation of inter-municipal planning concepts, participative governance processes, and networks for knowledge transfer, the project has allowed local entrepreneurs to capitalise on Alpine building culture as a source of regional identity and economic development. In addition, AlpBC has contributed to the stimulation of regional closed loop economies in the building sector, thereby promoting local sustainability.
Funding:
Alpine Space Programme of the European Union 2012-15 (as project partner; lead partner: Chamber of Craft for Munich and Upper Bavaria), additionally funded by the Federal Institute for Building, City and Regional Research BBSR, and by the Energy Agency "Bayern Innovativ" financed by the Bavarian State Ministry of Economy, Transport, Infrastructure, and Technology.